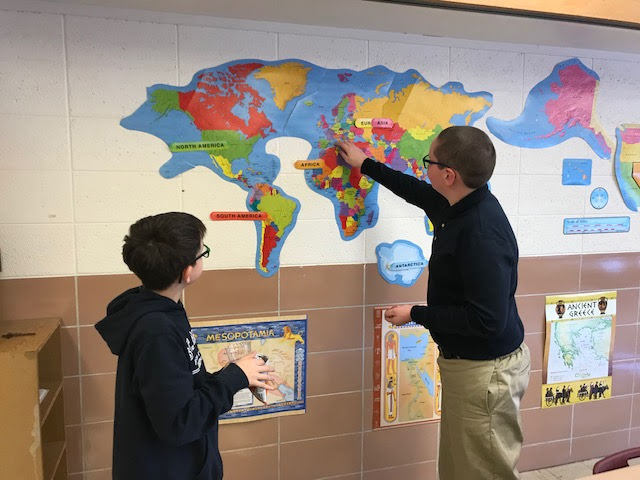 The Social Studies curriculum at St. Mary Parish School is a comprehensive K3 through 8th grade program that teaches students about historical events of the past and the present, the world around them, and the ways in which people interact, solve conflicts, and make changes in their lives.
Our students learn through a wide variety of interactive and experiential instruction including activities such as:
Grade 1 Building a community
Grade 2 Holidays around the world
Grade 3 Laura Ingalls Wilder Day
Grade 4 Tour the state capital
Grade 5 In-depth study of US History
Grade 6 Interactive unit on Ancient Greece, Acropolis building & Olympic games
Grade 7 Journey through the crusades, learn about the Black Plague, attend a Medieval Feast
Grade 8 Interactive unit on Revolutionary war (role-playing, debating, simulating difficult decisions faced by founding fathers) Trip to Washington, D.C. culminating lessons about our state and national government
Grade 7 and 8 Personal Finance studies through Jr. Achievement, Finance Park
At St. Mary Parish School, our Social Studies education:
Reaches beyond the acquisition of useful information.
Develops judgment and perspective in students when it focuses upon broad, significant themes and questions rather than short-lived memorization of facts without context.
Reflects the multicultural dimension of our society and our connections with a global world order.
Follows Wisconsin Social Studies Standards.
Includes "whole cultural explorations" with cross-curricular connections like literature stories, math and money systems, and fine arts.
Emphasizes current events.
Incorporates technology, research, mapwork and games.
How will your child thrive at St. Mary Parish School? Contact us to take a closer look at our school and explore all the possibilities.