Give your child the best a catholic education has to offer… at St. Mary Parish School, Menomonee Falls, Wisconsin. Ours is a fully accredited Catholic school for grades K3 through eighth. We offer full and/or half-day program options for K4 and K5.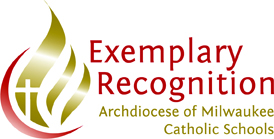 Fostering a positive sense of self within our students, St. Mary's dedicated and highly qualified staff is committed to providing an environment that promotes self-esteem, leadership and respect for others. We engage students in the learning process and encourage them to develop to their fullest potential spiritually, morally, intellectually, physically, socially and emotionally. Our core curriculum consists of:
Art
Mathematics
Music
Physical Education
Reading/Language Arts
Religion
Science
Social Studies
Spanish
Technology/Computer
Explore each of our academic areas.
A St. Mary's education goes far beyond the classroom here. In addition to a rich variety of athletics and extracurricular activities, we also provide services to support our students and their parents, including:
Web-based grading program with 24/7 parent access
Learning management system
Student resource teachers
Safety education
Little Buddy program
Home and School Association
Faith study and prayer groups
Hot lunch program
The highly-accessible location of our school and parish make St. Mary Parish School convenient for students coming from Menomonee Falls, Germantown, Colgate, Hartford, Hubertus, Lannon, Milwaukee, Sussex and other near-by communities.
We welcome you to learn more about the St. Mary Parish School difference. Please contact us to arrange a personal tour.