Celebrating 100 Years of Christian Faith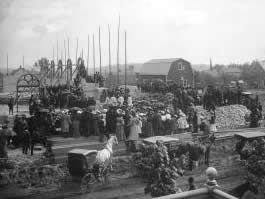 St. Mary Parish School has a rich history within the community of Menomonee Falls.  Over 30,000 students have graduated from the school during its 90-year history.
At the annual meeting on January 1, 1916, the parish leadership approved plans to build the original school consisting of two classrooms, a hall and convent living quarters.  The doors opened in September 1916 and the first class of two students graduated in 1919. Enrollment has grown steadily over the years and over time additional classrooms and space were constructed.
Poised to continue its long history of serving the families and children of Menomonee Falls, St. Mary Parish School now educates and nurtures well over 300 students each year. The addition of a state-of-the art science lab, Smart Boards in every classroom, new Kindergarten classrooms and other remodeling components planned for the school will position our school to continue its mission for our next generation of students.
Take a closer look at our Centennial History of St. Mary Parish.