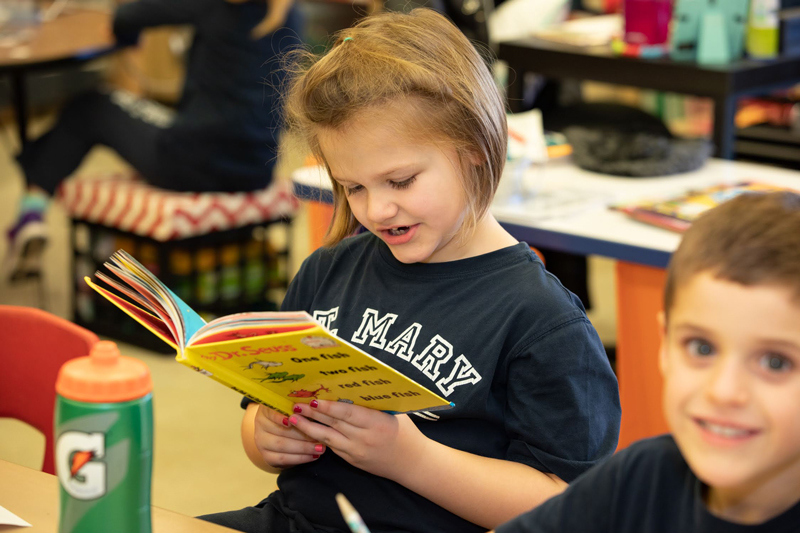 The Language Arts/Reading curriculum at St. Mary Parish School is developed on the belief that a learner needs to do reading and writing in order to learn. Our program is an integrated program of instruction in that good literature serves as a model for good writing and great literature begs a written response in a variety of ways.
St. Mary incorporates cross-curricular instruction/activities with technology whenever possible to provide students with a broad-based learning experience.
In grades K5 through 4th, the model of instruction springs from the use of an integrated program, which includes both basal text and language learning experiences based on the literature studied, as well as a study of particular authors and trade books at appropriate times.
In grades 5 through 8 the model of instruction is that of the Reader's-Writer's Workshop in which students proceed according to readiness along a continuum which defines grade-level expectations in writing, mechanics, reading and literacy skills.
St. Mary's Language Arts/Reading curriculum involves:
Systematic and multisensory phonics instruction provides a strong foundation for young readers
Literature-based reading program
Personalized spelling program to meet learners where they are and move them forward
Cross-curricular writing lessons and units of study
Hands-on extended literature activities
Technology connected activities
Novel based/state-of-the-art literature series in middle school
Lessons designed to help students master Common Core Standards
Find out how your child can experience a St. Mary Parish School education first-hand. Contact us for more information.