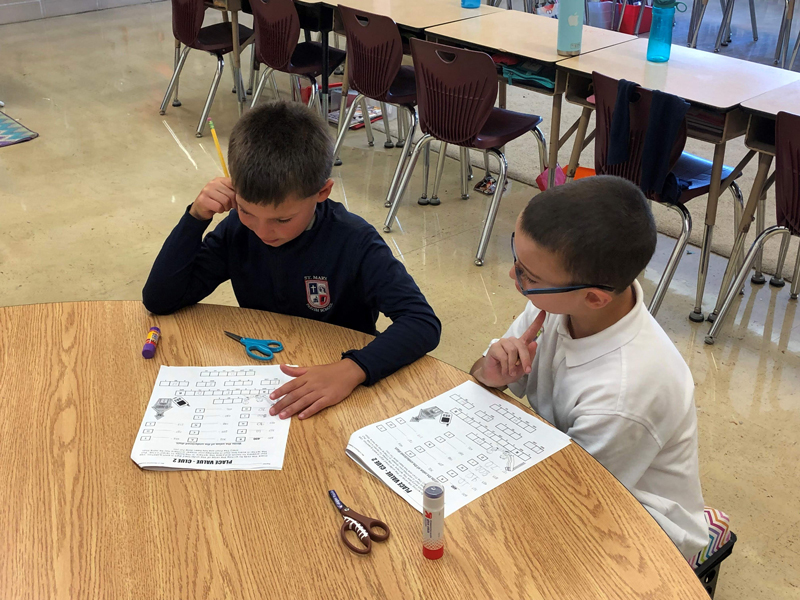 The St. Mary Parish School math program is a comprehensive K3 through Algebra curriculum that provides students the opportunity to challenge themselves at every level. Teachers differentiate instruction to serve the needs of all learners. Students who are gifted in math are given the chance to complete work above grade level including high school level courses. Individual and small group instruction and activities are provided.
At the heart of our vision for a quality mathematics program for students, is our belief that all students will learn to value mathematics. They will become confident in their ability to do mathematics, learn to communicate mathematically, become mathematical problem solvers, understand, appreciate and see the connection between mathematics and real life experiences.
St. Mary's includes opportunities to explore important mathematical ideas, as well as relationships among mathematics and the discipline it serves; use children's mathematical ability to make sense of new problem solving situations in the world around them; view mathematics as a process rather than a series of discrete products; read, write, and discuss ideas in which the use of the language of mathematics becomes natural and serves as a way to clarify, refine, and consolidate their thinking; encourage conjecture-making, evidence gathering, and argument building to support doing mathematics.
Students at the 6 through 8 grade levels who are developmentally ready (have shown a habit of diligence with respect to work, high mathematical grades and possess high standardized test scores) are recommended to take two years of pre-algebra (grades 6 and 7) and one year of algebra (grade 8). Students who are successful move into high school with an additional math unit.
Schedule a visit to find out how a St. Mary Parish School education adds up for your child.