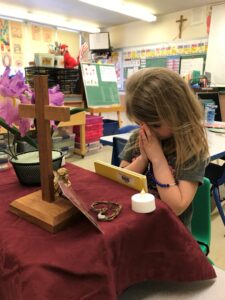 The center of our program at St. Mary Parish School is faith formation. The emphasis is placed on Christian living and the life of Jesus. This is accomplished by making a conscious effort to integrate faith into the life of each student by creating a Christ-centered atmosphere, stressing Christian values in the classroom as well as throughout the entire school environment.
A formal religion program is taught in all the homerooms. Faith experiences are an integral part of our religion curriculum. These are provided by using varied prayer experiences in the classroom and by participating in child-oriented liturgies on a weekly basis. Students experience worship with the entire school community in church. Each child is encouraged to experience worship with the family on a regular basis at weekend liturgies or religious services.
A practical extension of the religion class is service to others. Sixth through eighth grade students are expected to give a specified number of service hours to both the school and to the community. Parents/guardians are asked and encouraged to help their children in this matter. Boys and girls in grades 5 through 8 are invited to be servers at Mass.
To further enhance their spiritual growth, students in grades 6 through 8 participate in an annual Day of Reflection. This is typically a half-day program that focuses on a special topic chosen by the teaching staff. Youth participate in large and small group discussions while also doing various games and activities related to the reflection topic.
According to Archdiocesan Policy, the teachers of religion have completed, or are in the process of completing, the Standards of Religion Certification, which qualifies them to teach religion at St. Mary Parish School, Menomonee Falls, Wisconsin.
Bring your child to grow spiritually here at St. Mary Parish School. Plan a visit to meet with us and tour our school.